Many Barron Square owners and residents are aware that a new condominium project is being proposed for the vacant property at 4146 El Camino Real adjacent to the cul-de-sac at the end of Thain Way. This has significant implications for the residents of Barron Square. The purpose of this article is to present the facts in an impartial manner and stimulate discussion among Barron Square residents.
The Board of Directors wants to thank Ree Dufresne, Ruth Lowy and Laszlo Tokes for their help in monitoring this project and keeping the Board informed on its progress.
The Proposed Project
The proposal submitted by the architect, Ken Hayes, is for two 3-story buildings with a total of 21 units (7 1-BR and 14 2-BR). The buildings would have underground parking with ingress/egress from El Camino at the south end of the property next to the Zen Motel. In addition there could be separate pedestrian access from El Camino.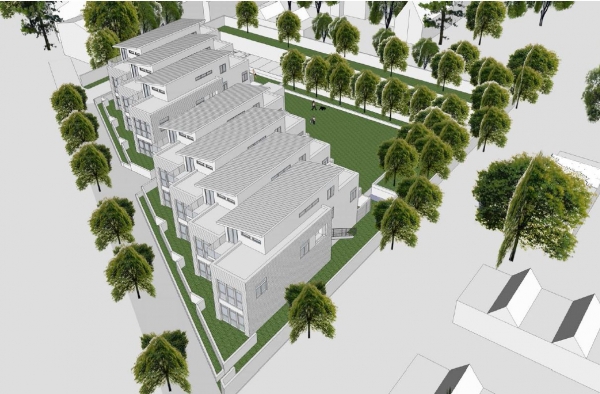 History
In 1979 Janet Thain sold 6.5 acres of her family orchard to Gerald Markoe who built the Barron Square Condominiums. The remaining 0.75 acres, which were on El Camino Real and included the Thain house, were not sold until after her death in 1985. In 1989 the owners of the El Camino property proposed building 8 condominiums, but the project was vigorously opposed by some residents of Barron Square and was abandoned. The Thain house was removed in the 1990's and the property has been vacant, except for the advertising billboard.